52% Potassium Sulphate Powder
Product Detail
Product Tags

K2O %: ≥52%
CL %: ≤1.0%
Free Acid(Sulfuric Acid) %: ≤1.0%
Sulphur %: ≥18.0%
Moisture %: ≤1.0%
Exterio: White Powder
Standard: GB20406-2006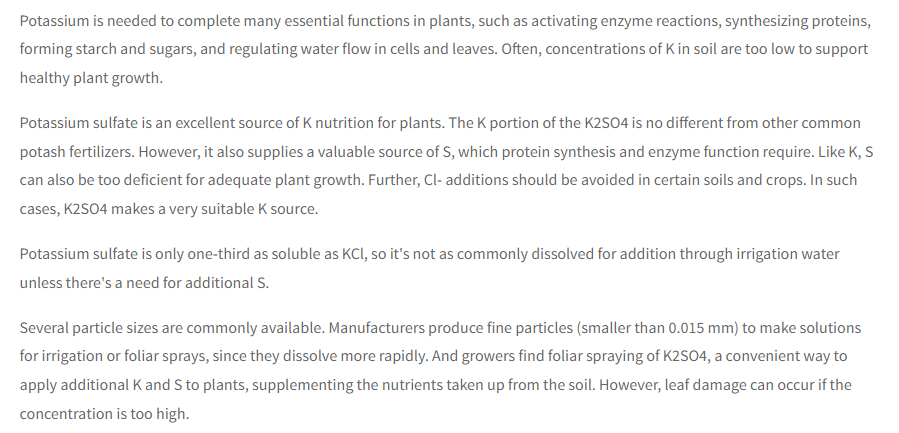 Growers frequently use K2SO4 for crops where additional Cl -from more common KCl fertilizer- is undesirable. The partial salt index of K2SO4 is lower than in some other common K fertilizers, so less total salinity is added per unit of K.
The salt measurement (EC) from a K2SO4 solution is less than a third of a similar concentration of a KCl solution (10 millimoles per liter). Where high rates of K?SO??are needed, agronomists generally recommend applying the product in multiple doses. This helps avoid surplus K accumulation by the plant and also minimizes any potential salt damage.
The dominant use of potassium sulfate is as a fertilizer. K2SO4 does not contain chloride, which can be harmful to some crops. Potassium sulfate is preferred for these crops, which include tobacco and some fruits and vegetables. Crops that are less sensitive may still require potassium sulfate for optimal growth if the soil accumulates chloride from irrigation water.
The crude salt is also used occasionally in the manufacture of glass. Potassium sulfate is also used as a flash reducer in artillery propellant charges. It reduces muzzle flash, flareback and blast overpressure.
It is sometimes used as an alternative blast media similar to soda in soda blasting as it is harder and similarly water-soluble.
Potassium sulfate can also be used in pyrotechnics in combination with potassium nitrate to generate a purple flame.
---
---
Write your message here and send it to us