The PP Woven Jumbo Bag/Big Sack/Super Bag
Product Detail
Product Tags
The pp woven jumbo bag/big sack/super bag, it was made by 100% original polypropylene, through extruding, drawing the pp tape, weaving the tapes to circular fabric. then sewing different parts to the whole U type or C circle type. they are widely used as the packages of bulk cement, construction, chemical resin.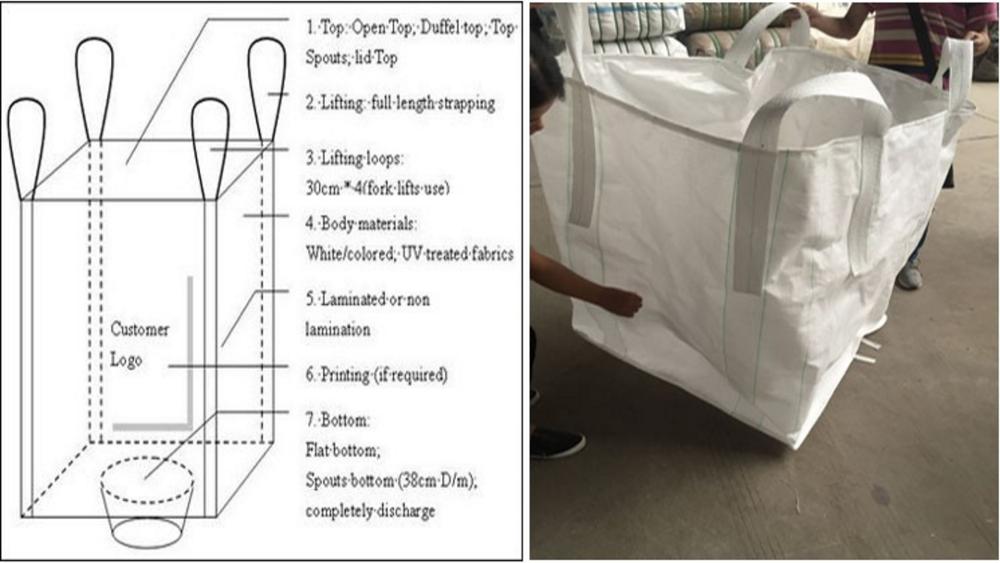 Detailed specification of 500kg to 2000kg FIBC big bag, jumbo sack, bulk container bag, ton bag:
No.

Item

Specification

1

Size

85cm*85cm*90cm/90cm*90cm*100cm or customized

2

Body construction

4-panel/U panel/Circular panel/Tubular panel/rectangular type

3

Top

Open mouth/skirt mouth/ filling spout

4

Bottom

Flat /discharge spout

5

Loop type

side seamed /cross corner/double stevedore with 2-4 belts

6

Printing type

one or two side with 1-3 color off set color

7

Optional parts

document pouch/label/rings/PE liner

8

SWL

5:1/3:1/6:1

9

Loading capacity

500kg to 3000kg

10

Color

white, yellow, blue or customized

11

Fabric weight

100g/m2 to 240g/m2

12

Fabric treatment

anti-slip or laminated or plain

13

Rope type

1 or 2 around the body or customized

14

Application

For packing the cement, sand, resin, wood waste, grain, powder,  

chemical resin, construction material, mine, coal..

15

Inside liner

60g/m2 to 80g/m2 PE liner

16

Characteristics

moisture-proof, conductive, reinforcement, dust-proof

17

Material

100% original pp 

18

Sewing type

Plain/chain/chain lock with optional soft-proof

19

Package

about 100kg for one bale

20

Delivery Time

within 25-30 days for one 40H container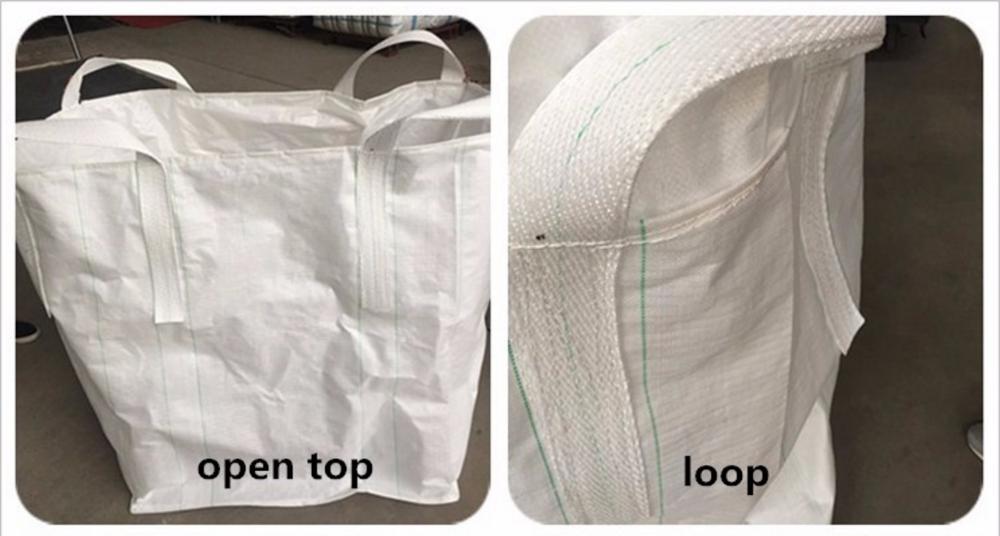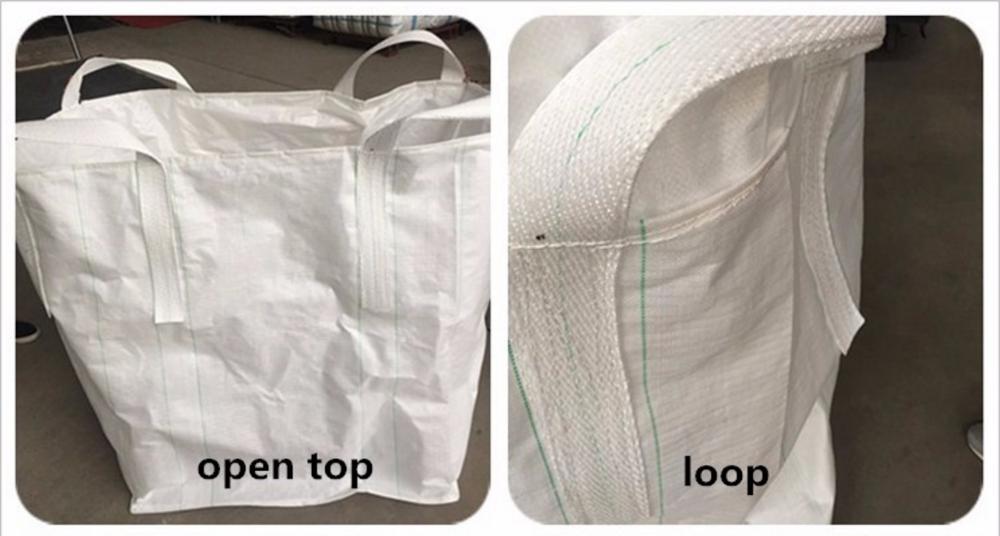 The tops of big bags: open mouth or skirt(duffle)or filling spout
The bottom of the big bags: flat bottom or discharge spout
The loops of the big bags: cross corner or side seamed
The other options: with PE liner or labels or document pouch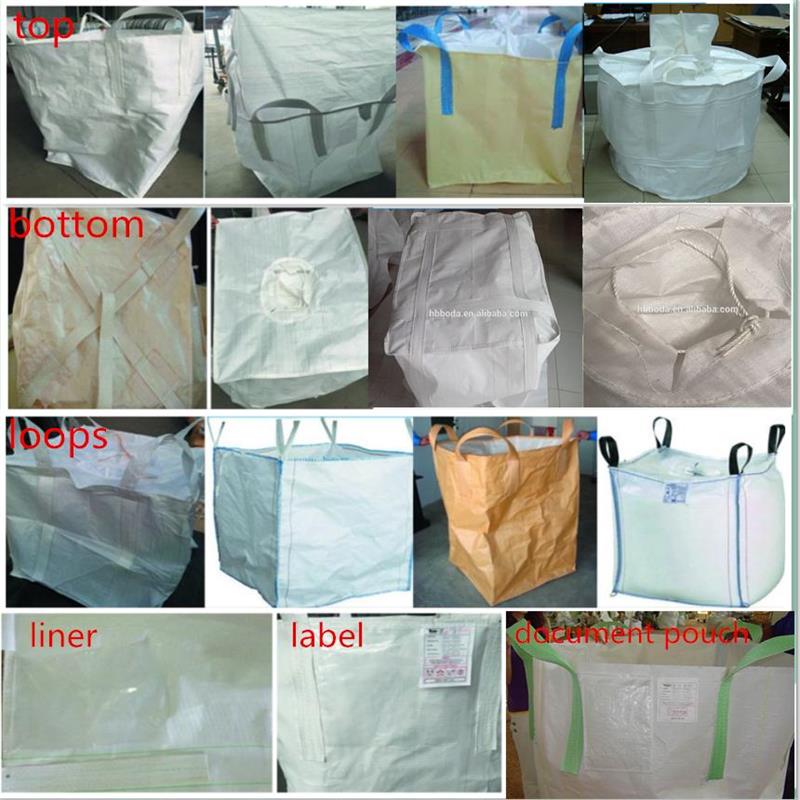 Production process of 500kg to 2000kg FIBC big bag, jumbo sack, bulk container bag, ton bag The following is the whole process to making the super sack/big sack/jumbo bag/woven pp bulk bag:
Extruding PP particle---------Drawing and cutting PP film-------thread the PP tapes-------Weaving pp tapes to tubular fabric-------Printing the body---------sewing top/bottom parts and loops and other parts--------Inspecting the strength tensile-package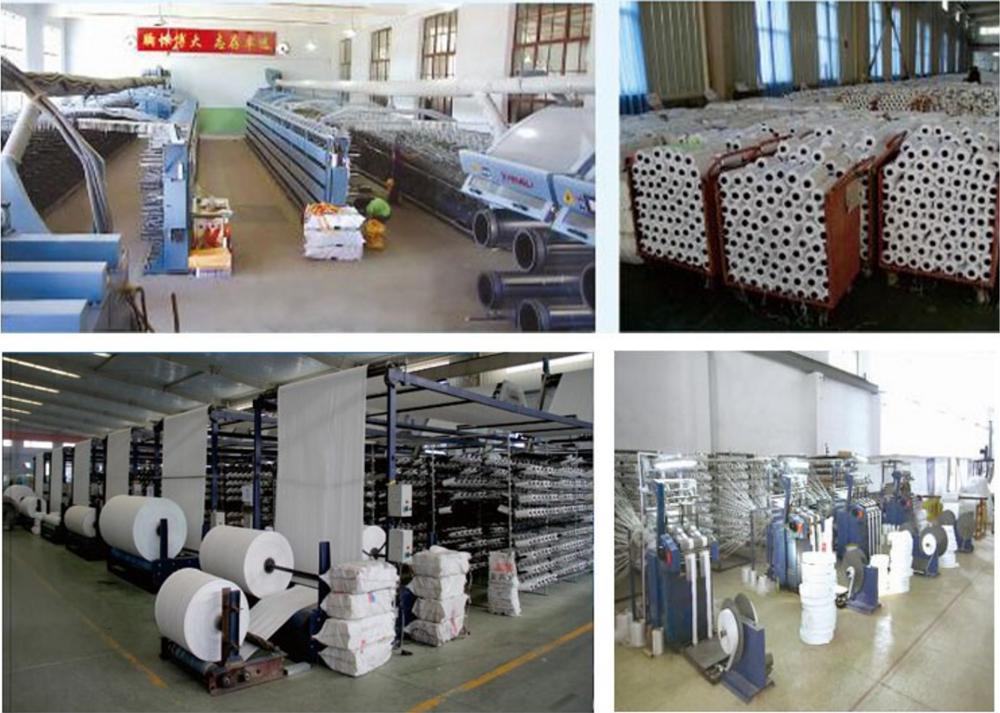 1. Food Area: sugar, salt, flour, starch.
2. Agriculture Area: grains, rice, wheat, corn, seeds, flour, coffee Beans, soybeans
3. Feed: pet food, pet litter, bird seed, grass seed, animal feed.
4. Chemicals: fertilizer, chemical materials, plastic resin.
5. Construction material: sand, cement, powder.
---
Previous:
Ammonium Sulphate By Bulk Vesssel
---
Write your message here and send it to us